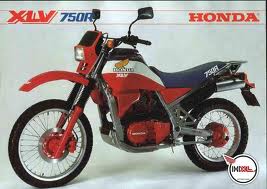 Honda indeed made a dual purpose shaft driven motorcycle to fight the hegemony of the gs. It was the XLV 750R, a motorcycle that I always liked in the French flag configuration rather than the other color configurations. Such bike was produce only for few years but it was the grandfather of the Transalp and all the ATs. Although the bike seems configured for off road riding, it finds its better place on the street with occasional ride on large gravel roads.
Honda xlv750r
This XLV750R is in excellent condition with less than 10K miles on the speedometer. The bike came with some spares and the ugly lower fender..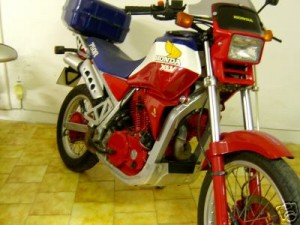 fortunately I also got the original fender to switch. The bike was taken apart to lube all the joints, check it for leaks and substitute the membranes in the cv carbs.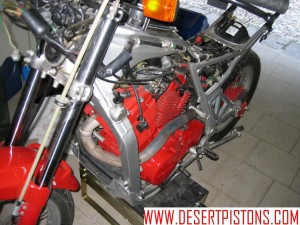 The XLV750R on its sides. I always liked the look of this bike.These pictures show the engine guards and the supplement auxiliary lights installed on them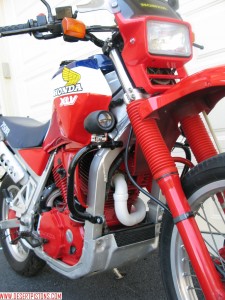 .You can notice that I had both exhausts ceramic coated in an unusual white color. It appeared to me to fit with the other colors of the bike and having had experience with the Guzzi Baja and the quality of its paint, I have decided to replicate it. Note the lower oil cooler mounted on the bash plate.  The back and the front of the XLV750R. On the back rack I have installed a 1984 Givi monokey which I have removed for the pics. In the front of the bike to cut turbulence when driving an additional wind breaker has been drilled and mounted on the headlight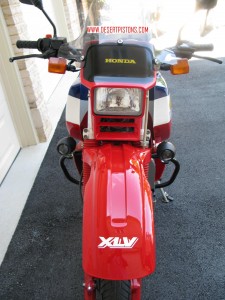 . The XLV750R on its back side, The mufflers look good.The red engine and the tank with the top air filter.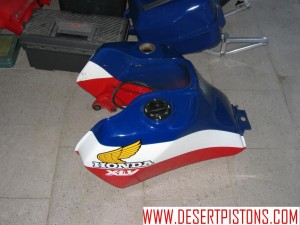 I hope it last the way it is without too much flaking. Early sign of flaking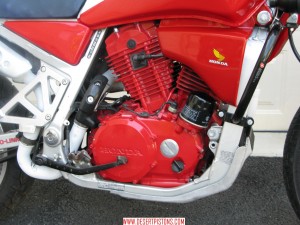 . It is common on this bike and usually only an issue of time. Several pictures of the bike in details are below
Make Model
Honda XLV 750
Year
1983
Engine
Air/oil cooled, four stoke, 45°V-four cylinders,  SOHC. 3 valves per cylinder:
Capacity
749 Bore x Stroke 79.5 x 75.5 mm Compression Ratio 8.4:1
Induction
2x Keihin VD Throttle bore 36 mm
Ignition  /  Starting
CDI  /  electric
Max Power
61 hp 45 KW @ 7000 rpm
Max Torque
7 kg-m 68.4 Nm @  5500 rpm
Transmission  /  Drive
5 Speed  /  shaft Gear Ratio 1st 2.500:1 (40116) 2nd 1.750:1 (35120)  3rd 1.291:1 (31124)  4th  1.000:1 (28128)  5th 0.833:1 (25130 Clutch Wet, multi-plate Frame Double cradle
Front Suspension
Telescopic forks, 200mm wheel travel.
Rear Suspension
Air assisted Pro-Link, 180mm wheel travel
Front Brakes
Single 276mm disc  2 piston caliper
Rear Brakes
Drum
Front Tire
90/90 21
Rear Tire
130/80 17 Seat Height 855 mm
Dry-Weight / Wet-Weight
195 kg   / 212 kg
Fuel Capacity
19.5 Litres
Top Speed
165-170 km/h